It is now Thursday, 7/1/99 14:32:30. What a day Sunday was! I was marching around all over the place, and trying not to get too sunburned. This is the one program of the year when I know that I'm going to have been awake way too early in the day.
Also, there's a big demonstration set for KPFA on Monday. I'll report on that. I'll also put up some information about the Pacifica National Board meeting that was held over the past weekend in Washington, D.C.
•
Great news! The overnight programs at WBAI are now being Webcast thanks to anomolies.net! Paul Williams of UFO Desk convinced the Webmaster of anomalies.net to do it. In fact, Paul has his radio going overnight, and it's hooked to his computer, which actually does the rendering of the program into a streaming format. This is then immediately streamed to anomalies.net in California where it's made available to anyone in the world who wants to listen to WBAI.
Thank you, anomalies.net!
•
So Pickles of the North and I marched in the 30th annual Christopher St. Liberation Day March yesterday. Yes, I know, it's now the Gay/Lesbian/Bisexual/Transgender Pride march these days. Actually, they don't even call it a "march" anymore. But, being a gay dinosaur, of the type Fagosaurus Radicalis, I insist on calling it a march because I don't think we're anything near as "safe" as some of the younger folks think we are.
Pickles of the North took a photograph of me at the march.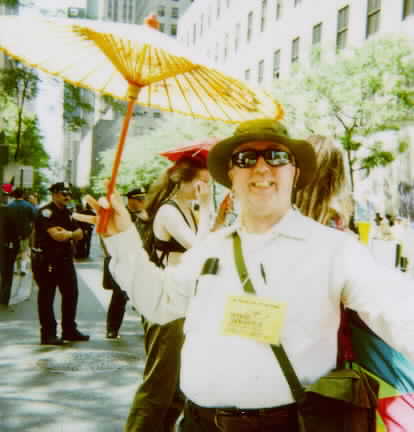 That's Pickles of the North's parasol I'm carrying so daintily. I'm wearing a hat I expropriated while living rent free in the Republic of Viet Nam in 1969, courtesy of the U.S. army. Those are my new sunglasses, and that yellow thing is the Heritage of Pride "press pass" which is good for, um, well, probably something.
The sunglasses and hat are necessities these days because my skin and retina are not going to stand a whole lot more ultraviolet before things go badly for me. One of the things I'm looking for is a new hat with a brim that goes all around, as opposed to the ball caps I've been wearing for several years. So if you know where I can buy a hat that has at least a 3¾" brim, let me know.
•
On a previous program I've gone on about horseshoe crabs. If you'd like to see if you can spot some horseshoe crabs they should be coming ashore to mate during the next full moon, which is today! Yes, the moon will be full at 5:37 PM EDT today. At exactly what time the horseshoe crabs will show up I'm not sure. They may show up at the full moon, or they may wait until nightfall to come ashore. Look along any inlet along the Atlantic seaboard to see if any horseshoe crabs show up.
They last came ashore to mate in the wee hours of May 31st. Unfortunately, when Pickles of the North and I went to see them all we found were some dead ones which had been killed, probably by drunken, idiot humans.
Update: Pickles of the North and I went to Gerritsen Beach in Brooklyn on Monday afternoon, just after the full moon, and we again didn't see any live horseshoe crabs. We saw a couple of dead ones, but these looked to have died in some natural way, other than at the hands of drunks. Oh well, we'll have to find someplace else to look for these interesting creatures in the future.
The horseshoe crabs are not supposed to show up ashore again until the full moon of May 2000.
•
Astronomers are discovering things called "Methane Dwarfs" which are failed stars, otherwise known as "Brown Dwarfs," that seem to have had some extra activity occurring on their surfaces to form methane. There are loads of exotic things floating around out there!
•
There is an ongoing crisis at WBAI's sister station KPFA. They had another demonstration there on Monday, and it is reported that there was a large crowd of several hundred people who chanted and made clear their displeasure with what's being done to KPFA by Pacifica Management. Watching from inside the lobby of KPFA were the plainclothes, armed security guards that have been hired by Pacifica Management. These armed guards' primary function so far has been to restrict KPFA Staff and limit them to one guest at a time on the air. It is reported by Jeffrey Blankfort of the Coalition for a democratic Pacifica that these guards are, "employees of IPSA .... with offices around the country and one, of course, in Arlington, Virginia and if you check out its website www.ipsaintel.com, you know what its job is and that it doesn't come cheap. All these thugs are ex-FBI or ex-cops and probably ex-CIA, and the head is an ex-FBI operative. It has web links to various Justice Dept. sites."